The term 'new norm' is the current word that we are living in during this pandemic, where we have to follow strict standard operating procedures enforced by the authorities to curb the spread of COVID 19 and until we are free from the virus. We have seen our favourite Mamak stalls and the crowded Kopitiam closing down their businesses during the movement control order. People were just told to stay at home, and only the head of the family is allowed to go out to buy groceries. Everyone was adapting very well to the new norm during the MCO, but at the same time, our country is experiencing an economic downturn.  COVID 19 pandemic is changing industries one after another, and the food & beverage industry is not exempted from the changing.
Movement control order phase one
Movement control order in Malaysia had started in 18th March 2020 when the number of COVID 19 cases rising tremendously in Malaysia. During the movement control order in Malaysia, only essential services are required to resume business like usual. Basic food and beverages such as rice, sugar, vegetable oil, flour and grains, bread, water, milk formula, spices, dried food, coffee and tea, canned food, meat, chicken, animal/pet food and processed fruits and vegetables are included in the essential services under food category. However, restaurants, cafes, fast food restaurants were ordered to remain closed during the first phase of the movement control order.
When most businesses are facing an uphill battle as they have to hold on to their business and also to support the employee, the food and beverage industry and food delivery services were very fast in adapting to the situation and grabbing the opportunity. As civilians were told by the authorities to stay at home unless to go out to buy groceries, food delivery services and takeaways are experiencing a rise in demand for convenience reasons.
Movement control order phase 2 / Recovery Movement Control Order
In Malaysia, after the movement control order, there is a conditional movement control order and the recovery movement control order. During this phase, businesses and other industries are operating as usual, following the standard operating procedure given by the Ministry of Health. One of the initiatives done by the government to help eateries during the first MCO is, restaurants can resume business but only for takeaways and food delivery. Dine-in is only available during the CMCO and RMCO.
Under the second phase of the MCO on the 1st April, businesses like supermarkets, restaurants and food delivery services are allowed to operate but only from 8 am to 8 pm daily. It is also advisable to do a cashless transaction, especially when you are doing some grocery shopping. As for food delivery, a contactless delivery can be done to avoid any mishap during the process. Delivery guy can do so by just putting just put the package on the table at the house lobby, and the customer can pick their packages right away from the table. This can prevent the spread of COVID 19 throughout the delivery process.
Challenges faced by the food and beverage industry
The food and beverage industry is one of the affected businesses during this pandemic. The challenges they faced during the movement control order was no deficit in profit margin. There was no business activity during the movement control order, but rental, utilities, the increased of raw material cost and workers' salaries need to be paid. Although they can innovate by doing food delivery in partnership with e-hailing service provider, the demands are there for some restaurants they even get more orders through the delivery services. However, they still couldn't catch up with their business profit margin because about 25 percent to 35 percent of the sales went to the service provider as profit sharing. Aside from that, some landlords still want them to pay rentals fully without having a consideration that their business is not doing well during the pandemic. Not only that, since they laid off most of their workers during the first MCO, the team is stretched and overworked as they need to complete a large volume of orders.
To help businesses that have been impacted by the COVID 19 outbreak, Bank Negara Malaysia is allocating RM 3.3 billion financing facilities for SMEs, to provide financial support, to sustain their business operations, safeguard jobs, and encourage domestic investments. One of the initiatives is the Special Relief Facility (SRF) with RM 2 billion allocation. The SRF aims to alleviate SMEs' cash flow problems that have been affected by the COVID 19 outbreak in the short term. SMEs can attain financing up to RM 1 million for a tenure of up to 5.5 years. The financing rate is at 3.75% p.a. This Special Relief Facility is available from 6 March 2020 to 31 December 2020 (Bank Negara Malaysia , 2020).
One of the famous local online platforms, Fashion Valet, had launched a website called FV Bazaar during the Movement Control Order. This platform aims to support small businesses and small online shops, specifically in the food and beverage industry that have been affected during the outbreak, with no fee or commission needed to be paid by the vendors. This helped the vendors sustain their business during the COVID-19 outbreak, as there are no restaurants, cafes, and even food stalls allowed to operate during the movement control order.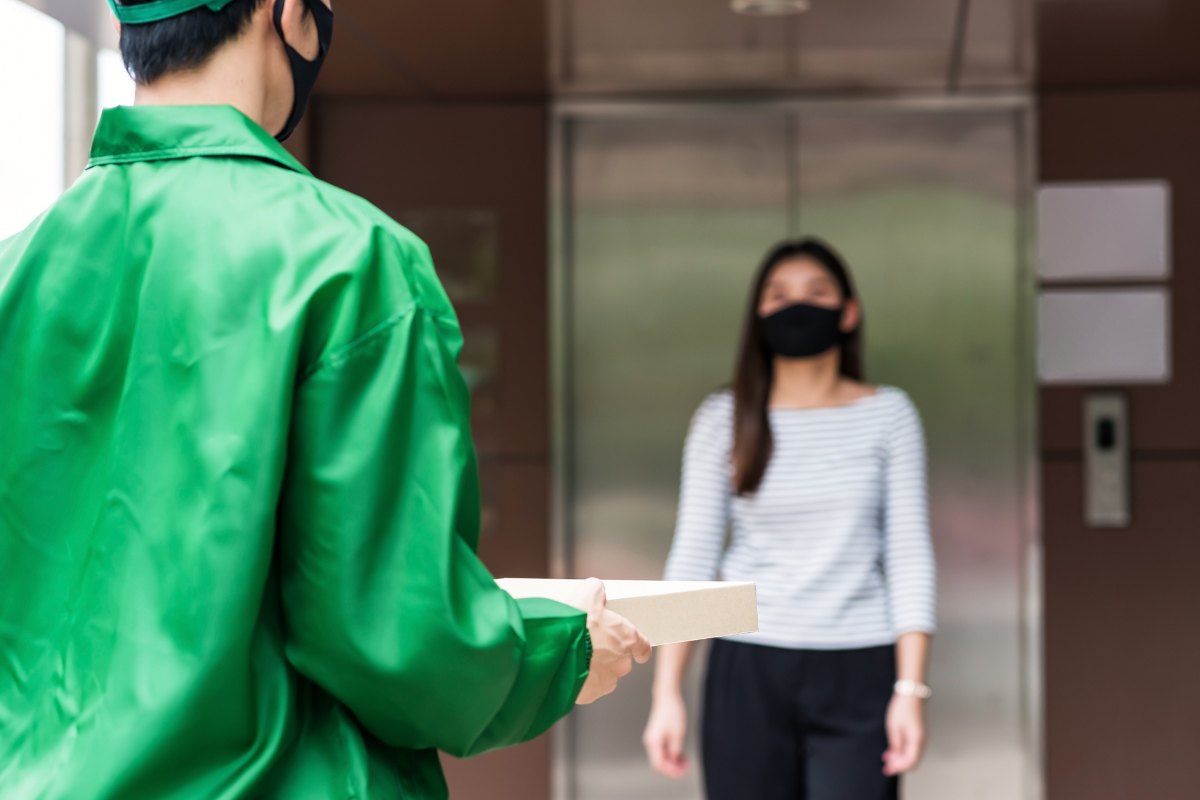 Adapting with the new norm
We are currently living in the new norm, where we have to adopt a new lifestyle by following the SOP given by the government to curb the spread of the COVID 19 in our country. Our Prime Minister Tan Sri Muhyiddin Yassin said all food and beverage outlets could operate as usual for dine-ins. Still, they have to strictly follow the rules and conditions set by the authorities during the RMCO. Failing to do so, stern action will be taken on the eateries and the customers who failed to comply with the rules and sop. Outlets can be hauled to court, compounded, and even worse, ordered to close.
The new SOPs for the food and beverages industry are as follows;
Table distancing, 2 meters between tables
Social distancing, 1 meter at the payment counter
Body temperature screening before entering the premise
Customers to register their names or scan the MySejahtera barcode for contact tracing
Disinfection and cleaning of premises three times a day
Cutleries to be sterilized after washing
Hand sanitizer and soap must be provided at the entrance, payment counter and sink.
These are the SOPs that the food and beverage outlets need to implement during this RMCO, and as an individual, it is very vital for each and every one of us to take a precaution, especially when we are out and about in public and crowded places. The food and beverage industries have to step up their game in business in order to sustain and keep the business growth during these challenging times. E-commerce and digital technology have been a great help to the industry in leveraging resources to meet the market demands, especially when people are buying both offline and online during this pandemic. As Malaysians, we have to work hand in hand in curbing the spread of COVID 19 in our country. As civilians, what can we do is to follow the SOPs enforced by the government, practice good personal hygiene and always remember to have a social distancing of at least 1 meter apart when you are in public places.
How Lean Six Sigma helps to improve the F&B industry
The DMAIC technique in Lean Six Sigma can be used to identify what works and what doesn't in the F&B industry. The Lean Six Sigma training will help restaurants and café owners to gather and analyze real data in order to measure the effectiveness of the decision-making process for continuous improvement in the F&B industry, especially during this COVID 19 outbreak. The Lean Six Sigma knowledge can help restaurant owners to think out of the box to sustain their business during this   pandemic and this can help to reduce inefficiency and errors. During the pandemic, we can see that food delivery services played the most significant role in the F&B industry, as people were buying foods online during the lockdown. Here, we can see how Lean Six Sigma helps optimize the F&B industry's issues in delivery and dine-in services.
You can still work towards reducing inefficiency and errors by applying what you learn in Six Sigma training to your restaurant operations. 
To improve order accuracy – One of the process in Lean Six Sigma is Value-Added activity. It is an activity where customers willing to pay and it is done right the first time. Taking order from the customer is very crucial as it is the first step before serving the foods to the customers correctly as how they ordered. A simple practice like repeating orders to customers, can instantaneously the start of reducing errors. Make it as a practice among the servers to ensure they get the correct order from the beginning to avoid errors later on. For delivery services, business owners can use a third-party application to handle orders and ensure the chef gets the correct order. An application like FoodPanda and GrabFood is widely used in the F&B industry to handle orders online with an up to date devices.
To improve food quality – in the F&B industry; improvements may vary according to the mode of business. For delivery services, you can improve packaging quality. They have to pay more attention in improving the delivery services to customers with added speed and less cost. Make sure it is in pristine condition to avoid spill out from the container before delivering it to the customer. Not only that, outlets can upgrade the containers with heat technology so that the food is still warm so that customers do not have to reheat their foods anymore. As for the dine-ins restaurant, they can implement strict controls on how long the food takes to prepare once the kitchen received the orders to help improve the overall quality.
To reduce human errors – Implementing team schedule to coordinate workers with proper job scope. For example, make sure to have one worker who can verify the order is correct and complete before leaving the kitchen. It is also very crucial to have a standard operating procedure for quality improvement to ensure food is top-notch before it is served to the table.
Lean Six Sigma knowledge can be implemented in the food and beverage industry, especially during the COVID 19 outbreak. You need to do what it takes to keep on surviving the business by implementing Lean Six Sigma knowledge in to it. Now, where to sign up? Fret not! MBizM Group Sdn Bhd provides various levels of Lean Six Sigma training such as Yellow Belt, Green Belt, Black Belt and Master Black Belt. Our consultants and trainers are Lean Six Sigma certified, and they have conducted training for many years to clients from different industries. For your information, MBizM Group Sdn Bhd is an Accredited Training Organization, Curriculum Provider and Examination Center by IASCC and by Council for Six Sigma Certification. We offer the best price for Lean Six Sigma Training in Malaysia with certified trainers and in complimentary of training materials. If you wish to earn Lean Six Sigma certification with experienced trainers at an affordable price, check out our website http://leansixsigma.com.my/ for more information or you can call us at +603 7873 8485.
Good luck and all the best!